...a few of your favorite things....


Fuchia Flower Gift Bag - Small
---
---
---
Product Description
•••••
Description:
Fuchia Flower Gift Bag with Tissue Paper Ė Small Gift Bag measures 5-1/2 X 3-1/4 X 8-3/8 in.
Includes: 1 Fuchia Flower Gift Bag + 2 sheets tissue paper (1-azalea tissue paper 1-citrus green tissue paper)
Jubilant colors of bright fuchia, orange and red petals appropriate for any joyful occasion.
Give custom gift bags with goodies that you have hand-selected exclusively for your special someone for a unique gift bag experience made exclusively for them. Fill the gift bag with natural and organic goodies that will delight the recipient.
Perfect gifts for birthdays, anniversaries, weddings, showers, graduations, Motherís Day, Fatherís Day, get well, a gift to cheer up a friend or any other special occasion.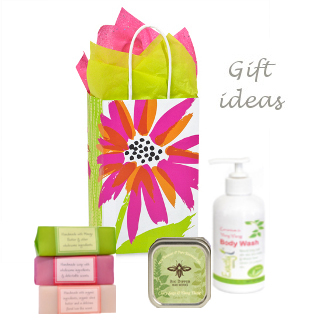 Some goodies you may want to add to the gift bag are:
Handmade soap
Body Wash
Lotion
Pure Candles
Soap Saver
Scented Dead Sea Salt
Lip Balm
Wooden Soap Dish
Microfiber Hair Towel
Agave Washcloth
Pumice Stone
Or any of our other awesome products
Gift bag is shipped flat. Fill your bag once you receive it.
Made from 100% Recycled Paper with 50% post-consumer recycled content.
Made in the USA.
Bright and cheerful fuschia flower design with white paper twist handles
Reuseable
Measures 8 X 4-3/4 X 10-1/2 inches
Tip: How to arrange tissue paper: First, place the gift items in the center of a piece of tissue paper. Gather the paper around the gift and place in bag. To add additional tissue paper, grab the center of the tissue paper between thumb and forefinger and shake letting the paper cascade down. Place in the bag pointed side down.
Group: Custom Gift Bags, Bath Gift Bags, Soap Gifts
Socially SpeakingÖ.
Pin It