How To Use A shampoo Bar
FREE SHIPPING ON ORDERS $60+ (US)
Please read:
Orders placed today will be delayed approximately 4 days due to a family emergency.
There are actually several ways to use a shampoo bar and what works for one person, may not work with another so you may want to try several methods to see which one works best for you. The rinses are the same whether using shampoo bars or natural shampoo.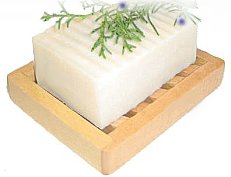 If you are privileged enough to have soft water and have been using natural shampoo, all you will need to do is lather lightly with a shampoo bar and rinse. That's it! If, not then keep reading. Also, those with short hair usually have an easier time using shampoo bars.


Some people say their hair has never felt healthier using shampoo bars while other find they leave a residue. The only way to find out which category you fit in is to try a sample bar on your day off.


Lather the shampoo bar in your hands and massage the lather into your scalp only. Rinse. Many people only need to cleanse the scalp, especially if you have dry hair.


If your hair has a residue after shampooing, use the Apple Cider Vinegar rinse, baking soda or my favorite leave-in hair rinse below. Using distilled or filtered water to shampoo and rinse will also help.


Using soft or distilled water to shampoo and rinse (or even just to rinse) helps considerably. Some have found that using a shower filter helps considerably.


I would love to try filtered rain water to shampoo and rinse and I'm going to do this someday. Rain water is ultra soft water and I've always heard it is the best water to shampoo and rinse with. If you use rain water to shampoo, let me know how it works for you.
Apple Cider Vinegar Rinse
Combine 1/2 cup apple cider vinegar and 2 cups water, pour over hair and scalp and rinse with warm water. For less hard water, you can use as little as 1 to 2 tablespoons apple cider vinegar to 3 cups water and leave it in if you prefer. Vinegar conditions and gives your hair shine. Your hair will smell like vinegar until dry but the smell goes away. Some people prefer to use the rinse before shampooing.
Baking Soda Hair Rinse
Dissolve 1/2 cup Baking Soda in 2 Cups warm water. Pour over hair and leave for a minute or two and rinse well. This rinse helps to remove build up, adds body and manageability. Another method is to work a handful of baking soda into your hair after shampooing and let it set for a minute or two before rinsing. You can also add baking soda to your hair while shampooing.
Shampoo bars are not for everyone especially if you have hard water. If you have never used a shampoo bar before, start out with a sampler from our 'Samplers' page. If it does not work for you, use the rest of your bar as body soap and try the Exactly! Organics Shampoo sampler or Miessence Shampoo sampler. Installing a shower filter or whole house water softening system is recommended for hard water.
Colored Treated Hair and Natural Shampoo
You may want to do a strand test if you have color treated hair. Here's how: Shampoo a strand of hair in a non-conspicuous area and rinse. Notice if there are any changes. Most people find that shampoo bars are easier on color treated hair than store bought shampoos.
Hair Type
We receive questions asking which shampoo bar is best for specific hair types. The shampoo bar that will work best for you depends on so many factors that it is next to impossible to guess. We suggest you try several of our shampoo bar samplers to see which bar works best for you.
How long will a shampoo Bar last?
We are often asked 'how long will a shampoo bar last?' This depends on so many factors such as your hair type, how much hair, how often you shampoo, how much lather you prefer, etc. It's impossible to tell how long a shampoo bar will last you so it's best to order a sample and gauge how long it lasts you specifically.
Reviews





(Note: Using a shaving brush will result in a very good lather).


Shop now for
Shampoo Bars
Group: how to use a shampoo bar