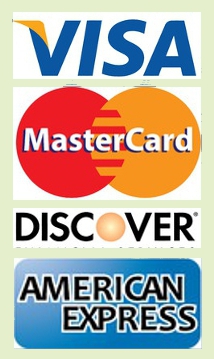 FAQ
Got a Question? You may be able to find the answer here.


__________________________________________________

Ordering - Payment:
We accept Visa, MasterCard, Discover and American Express as payment in US dollars. Simply select your payment option in the drop-down box during checkout.

Our site is secured with Secure Sockets Layer (SSL) encryption for credit card processing. Your credit card number is encrypted so that it cannot be read.

We do not accept payment over the phone. It's actually much safer to use our website to place your order where your credit card number is encrypted than to give your credit card number to someone over the phone.

Don't want to use your credit card online? Purchase a re-loadable pre-paid credit card (Visa, MasterCard, etc) for the amount you would like to spend. These can be purchased almost anywhere, grocery stores, convenient stores, etc. Use it to make purchases and re-load the card as needed.
__________________________________________________

Reward Points
Earn Soap for Goodness Sake Reward Points* every time you order. Every purchase you make earns points (5%) toward your next purchase. Use them for anything from natural soap to organic skin care and even gift certificates. You will never run out of great ways to use them.

To check your reward points balance. Login using the login button on the bar at the top of the page. Your balance will show at the lower left hand corner.

To redeem points. You can redeem your points during the checkout process on the Shipping and Payments Selection Page. Points can only be earned and redeemed with orders placed and paid for online.

*Account required
Note: Points can only be accumulated and used online on our website.
Sorry, reward points cannot be added prior to having an account.
__________________________________________________
__________________________________________________

Why is my basket empty?
If items are missing from your cart, refresh the page and see if you can see them. Try not to use the back button as this can cause products to be hidden from you in some browser versions.

Sometimes when your shopping basket comes up empty after shopping, it means that all or some cookies have been disabled in your browser.

When you place an item in your basket, cookies remembers it until you checkout. If you do not have cookies enabled or your privacy settings do not allow cookies, your computer cannot remember what you have placed into your basket. That's the way online shopping baskets work.

Recent updates to your computer, browser, privacy settings or security settings can change your cookie settings.

You can try lowering your privacy settings and re-set them after you order if you wish. Medium settings usually work well.

Or try ordering from a different computer if you have access to one. Be sure you have cookies enabled too. Then go to our website and see if your shopping basket has got a memory of your requests.
__________________________________________________

Allergies and Chemical Sensitivities
First, keep in mind that we did not create your allergies or sensitivities and we never claim to make products specifically for chemically sensitive or allergic individuals nor do we make claims that our products are hypoallergenic.

Some chemically sensitive people do well with our products while others do not. Every individual is unique when it comes to sensitivities and a person can be sensitive or allergic to virtually anything. All matter is a chemical including water.

If you are allergic or sensitive to certain ingredients, be sure to read the label before purchasing or using a product and always try the sample size first, if available.

If you are sensitive to scents it might be best if you bought from a walk-in store where you can smell the scents before you purchase. The majority of our customers enjoy scents.

Please do not hate us because our packaging smells so good. We make scented products and everyone who walks into our shop comments about how good it smells. The scent permeates everything in our shop included our shipping boxes and packing material. There isn't anything we can do about it and we don't want to have to give up making our products with no added scent.

Some individuals with chemical sensitivities mistake cinnamon leaf oil for patchouli so keep this is mind when shopping if you tend to confuse scents or do not care for patchouli. Please keep in mind that many people love the scent of patchouli and we happily make patchouli products for our patchouli loving customers.

We do use nut products such as shea butter and mango butter in some of our natural soaps and other items. We use the same equipment for all products. We list the ingredients of our products on this website. If you have allergies or sensitivities, be sure to read the ingredients before purchasing. The same rules apply if you are sensitive to gluten. The ingredients are listed folks! Please let us know if you have any questions.
__________________________________________________

pH of Bar Soap
pH balanced soap is a good marketing ploy but deserves much more research. There is a ton of information and opinions about the pH of soap on the web if you care to explore the topic further.

pH is a measurement for liquid solutions. Accurate pH of solids cannot be attained with test strips. It goes without saying that since bar soap is a solid, the pH cannot be readily determined.
_________________________________________________

Animal Testing
We are cruelty free. Our products are never tested on animals.




_________________________________________________

NON-GMO
We strive to make sure our ingredients are Non-GMO and as far as we know all of our ingredients are Non-GMO.
__________________________________________________

Vegan:
Are your products vegan?
All of our soaps are vegan with the exception of the goat milk and honey soaps. However, we do carry other products that contain beeswax which includes: concealers, lip crèmes and lip liners, eye liner pencils, mascara, shimmer crème, Jaffa lip balm, reflect outdoor balm. We do list list ingredients of each product so be sure to read the ingredients to be sure.
__________________________________________________

Sales Tax:
Arkansas residents are subject to 8.00% sales tax.
__________________________________________________

Samples:
Do you offer soap samples? Yes, we offer many samplers on our Samplers page.
__________________________________________________

Catalog:
We do not offer a printed catalog.
__________________________________________________

Giving Works:
Our giving works include contributions every month to the Environmental Working Group and also contribute to the local women's shelter, Clean the World, The Audubon Society and other charitable causes.
__________________________________________________

Where to buy Soap for Goodness Sake?:
Soap for Goodness Sake products are sold exclusively here on this website.
__________________________________________________

Wholesale:
Soap for Goodness Sake is not offering wholesale at this time.
__________________________________________________

Shipping and Returns
See Shipping and Returns
__________________________________________________

How to Care for Your Soap:
Store your handmade soaps in a cool, dark place. Each scent should be stored separately in a plastic container or freezer bag to help retain scent and to keep them from absorbing moisture from the air. Handmade soaps are rich in natural glycerin and glycerin is a humectant which attracts moisture. When in use, soaps should be kept on a soap dish that drains very well and should be allowed to dry between uses. You can find soap dishes under "Bath Accessories" on our site.

Bulk batch soaps are best keep in a plastic container such as a plastic shoe box to protect from moisture and help retain their scent.
___________________________________________________

Intellectual Property
All information and content available on this site, including but not limited to logos, text, graphics, images is the property of Soap for Goodness Sake, LLC and is protected by US Copyright law. Use of the Soap for Goodness Sake LLC ("Soap for Goodness Sake") name or reference to www.soapforgoodnesssake.com without the consent of Soap for Goodness Sake is prohibited. Neither the content nor any portion of this site may be used, reproduced, duplicated, downloaded, copied, sold, resold, accessed, modified, or otherwise exploited, in whole or in part, for any purpose without our express, prior consent.




soapforgoodnessake